Councillor contact details
Councillors
Details for your local councillors can be found in the links below. There are three councillors per ward.
East Chesterton Councillors
East Chesterton Ward
West Chesterton Councillors
West Chesterton Ward
Kings Hedges Councillors
Kings Hedges Ward
You can view the Cambridge City Council Ward Map here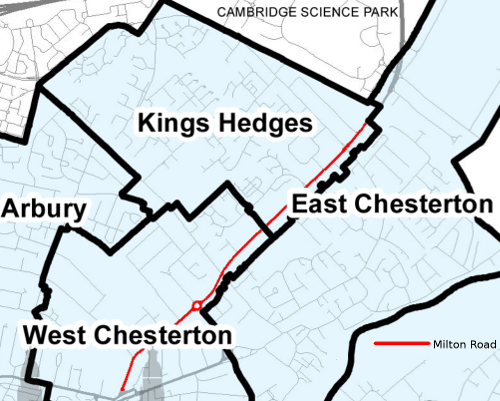 Cambridgeshire County Councillors
City Deal Executive Board
You can find out more about how the City Deal is governed and organised here.
The Voting members of the Executive Board have the final say on the city deal. These members are:
The non-voting members are:
Professor Jeremy Sanders - Pro-Vice Chancellor for Institutional Affairs at the University of Cambridge
John Bridge - Chief Executive of the Cambridgeshire Chambers of Commerce
Mark Reeve, as Mr Bridge's named substitute - Chairman of the Greater Cambridge Greater Peterborough Enterprise Partnership
The Joint Assembly (advisers to the Executive Board) members are:
Cllr Tim Bick - Cambridge City Council
Cllr Francis Burkitt - South Cambridgeshire District Council
Anne Constantine - Cambridge Regional College
Cllr Roger Hickford - Cambridgeshire County Council and South Cambridgeshire District Council
Cllr Noel Kavanagh - Cambridgeshire County Council
Cllr Maurice Leeke - Cambridgeshire County Council and South Cambridgeshire District Council
Sir Michael Marshall - Marshall of Cambridge Ltd
Cllr Kevin Price - Cambridge City Council
Jane Ramsey - Cambridge University Hospitals
Claire Ruskin - Cambridge Network
Cllr Martin Smart - Cambridge City Council
Cllr Bridget Smith - South Cambridgeshire District Council
Helen Valentine - Anglia Ruskin University
Andy Williams - Cambridge University Press
Cllr Tim Wotherspoon - South Cambridgeshire District Council